If "involvement" means participation, connection, inclusion, and enthusiasm, then the Parent/Community Involvement Task Force was a major success.
An idea became a reality.
The positive correlation between parent involvement in children's education and academic achievement has been widely documented. Likewise, the participation of communities has a major impact on academic achievement. With these facts in mind, Board Member Laurie Rich Levinson proposed the Parent/Community Involvement Task Force (PCITF), and this group became a reality when the School Board unanimously endorsed its establishment at the March 1, 2011 Board meeting.
The goals were set.
Membership in the Task Force included nine Board member appointments, representatives from parent and employee groups, three at-large community members, and an at-large business member. Each member kept the following goals top-of-mind:
Energize and increase parent/community involvement.
Review current Parent/Community Involvement models to identify gaps and deficiencies.
Revise Parent/Community Involvement model(s) to address identified opportunities.
Provide identifiable ways and processes for citizens to have meaningful input and
participation in public education in Broward County.

Every voice counted.
Indeed, thousands of parents, volunteers, and Broward residents welcomed the opportunity to express themselves. This was one of the greatest outreach efforts by The School Board of Broward County, Florida in decades. The group reached out to thousands of people and received their concerns, ideas, and recommendations. It ensured those who participated in this process that their voices would be heard and their recommendations brought forward.
Our volunteers rose to the occasion.
The PCITF completed its work in eight months. Multiple methods were employed to assess current initiatives and to capture parents' and the community's views, concerns, and suggestions. These included: surveys, interviews, focus groups, public hearings with open microphones, and forums. The fact that this endeavor was accomplished by volunteers demonstrates the power of the volunteer and the many talents of volunteers in Broward County.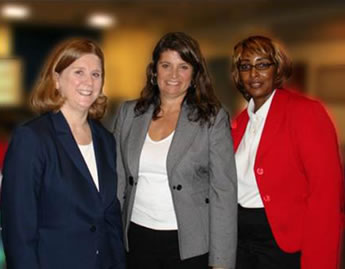 We reached the finish line.
February 28, 2012 was a proud day for the Parent/Community Involvement Task Force. On that day, Task Force Chair Mary Fertig, along with Task Force members representing each subcommittee, presented the final report and recommendations at a Board Workshop. After eight months of research, school visits, interviews, surveys, forums, public hearings, focus groups, Task Force meetings, and subcommittee meetings, the Task Force then reviewed all of the findings and recommendations and voted to bring forward more than 90 recommendations to the Board.
The Task Force Timeline
| | |
| --- | --- |
| March 1, 2011 | Task Force established |
| March 2011 - May 2011 | Selection of Task Force members |
| May 18, 2011 | First Task Force meeting |
| | Work Plan devised |
| | Subcommittees created |
| June 2011 - January 2012 | Subcommittee meetings |
| | Surveys |
| | Interviews |
| | Focus groups |
| | Public hearings |
| | Forums |
| January 10, 2012 | Final Task Force meeting |
| | Recommendations finalized |
| February 28, 2012 | Presentation of final report and findings to the Board |